Town centre developing in areas of archaeological importance

Location: Macclesfield, Cheshire
Client: Estates & Leisure Holdings Ltd
Build Contractor: Fred Burill Construction
Budget: £400,000
Project: New office build
Size: 260 m2
Duration: One Year
Work undertaken: Design, submission for planning/building regulations and contract administration
Overview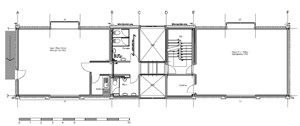 Estates & Leisure Holdings Ltd contacted MMP Architects in May 2000 to discuss initial plans for a new contemporary office development in the centre of Macclesfield. The area was of archaeological importance as it was in the centre of the medieval part of the town.
MMP initially prepared and submitted plans for approval in July 2000. The design selected was a very contemporary style, which fitted with existing buildings in the area but also would attract the right sort of tenants.
Designed and built within strict cost constraints, the use of stainless steel, cedar cladding and an internal glass bridge spanning the double-height reception contrast with the more traditional red brick and slate materials that are predominant in the area.
In addition, it maximised the development potential of a tightly confined site through building above some of the required parking provision.
Planning Hurdles
Due to the sensitive nature of the area, an "archaeological watch" was attached as a planning condition when the scheme were finally granted consent. During construction, MMP was responsible for appointing Manchester University Archaeology Department to undertake the watch and reporting findings to the planning authority.
Although some finds were made in the initial stages these were not deemed to be of great significance and building continued. These included remnants of a subterranean wall indicating an earlier property boundary dating from before the 18th century and a pit containing a group of 19th century pottery fragments.
The Results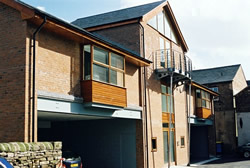 Estates & Leisure Holdings were able to pre-let the property to a local public relations agency from the plans that were prepared by MMP which meant that as soon as building was completed the property would be let.
Nick Lewis, managing director at Estates & Leisure said; "We already had a relationship with MMP as they had worked on a few of our other projects and they were also recommended by our property agents, Greenham & Co. The project was not easy but they were able to keep things running smoothly even after initial planning applications were rejected. We were really happy with the work they did for us as it was very much on time and in fact came in under budget by almost £75,000."