Office and warehouse construction

Location: Irlam, Manchester
Client: Multisol Ltd
Build Contractor: Ellenby Construction
Budget: £500,000
Project: New Office Build
Size: 250m2 Office + 660 m2 warehouse extension
Duration: One Year
Work undertaken: Design, submission for planning/building regulations and contract administration
Overview
Multisol Ltd is a leading, independent, European distributor of speciality solvents, chemicals and lubricant additives. MMP Architects were selected following meetings with the managing director but the fee was based on an original proposal put forward for a simple "brick box" design.
MMP were briefed that the company wanted a modern office interior and warehouse facility although for security reasons they did not want to attract too much attention to the building.
During the briefing stage it had also become apparent that many of the employees did not want to move to the production site in Irlam. MMP had to make the development work both as a business but as a place where people would want to work
A contemporary open plan setting was selected incorporating a double height reception area providing a tranquil and popular working environment within a busy industrial estate.
High quality internal finishes and details were specified throughout, consistent with the high profile image of the Client.

The Results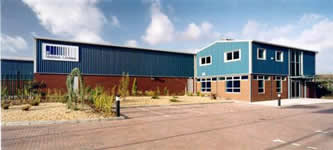 Mr Paul Oliphant, managing director of Multisol said; "We were very pleased with the work that MMP undertook on our behalf. They were able to visualise what we needed and then put it into practice. I know that our offices are now a showcase and we will be using MMP again in the future."
Since the completion of the development MMP has been able to secure new projects based on the Multisol design because of the way they were able to incorporate the desired amount of floor space on a small site.