Current Projects
Prestige Residential Developments
Projects currently underway include significant extensions to two houses overlooking Tytherington Golf course, Macclesfield and the refurbishment/ extension of a large, 1920's style, home in Prestbury
Residential Conversions
Listed Building Renovation
Construction of an extension at Grade 2 listed building Pirton Grange, Worcestershire, is expected to commence on site this year.
Commercial Property
Following the works undertaken at the plant in Leek, Tessenderlo Group have asked MMP to masterplan works at their site in Wigan.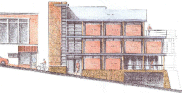 Work will also commence on site this year for new contemporary styled offices in Macclesfield.
Secure Home Office Accommodation
MMP are currently working for Interserve Strategic projects division on additional accommodation at HMP's Nottingham and Everthorpe.