Sympathetic Developments of Grade 2 Listed Building

Location: Wychavon District, Worcestershire
Client: Pirton Grange Nursing Home
Budget: £1.5 million
Project: Accommodation extension
Work undertaken: Design, submission for planning/building regulations, on site inspection and contract administration
Overview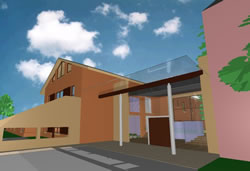 Set in the heart of the Worcestershire countryside, Grade II listed Pirton Grange is a specialist nursing home that provides long term care for patients suffering from Parkinson's disease.
MMP Architects were invited to work on the project in early 2004 when a smaller scheme which had previously been granted planning consent had to be substantially redesigned due to changes in government care regulations.
Working with a planning consultant they met with the Chairman and senior staff at Pirton Grange to discuss requirements and establish how planning approval for a considerably larger scheme could be gained.

Community Objections
The sensitive nature of the development meant that both the parish council and members of the community had objected to the initial scheme believing it would both change the character of the red brick 18th century building and impact on nearby homes.
Their concerns were allayed by extensive landscaping around the perimeter of the site and the use of low-level security lighting bollards rather than lamp posts.
Conservation Considerations
Being Grade II listed all proposals had to be approved by the local conservation officer who wanted a contemporary design that would complement rather than duplicate the style of the existing building.
MMP proposed a new building that formed a south-facing courtyard containing light and airy patient accommodation balancing the need for privacy with easy access from the nurse stations. A new glass fronted entrance housed both reception and a double height association space and provides a buffer zone between the existing building and the new extension.
Development Issues
The remote nature of the site meant that the development had to carefully consider where drainage and services would be located.
The current site used a natural reed bed purification system for waste-water and this could also be utilised for the new building. In addition MMP proposed a permeable car park so that surface water would percolate through and drain away.
The Outcome
After a long consultation period, planning was finally approved for the new building which would provide a beneficial environment for patients and be in compliance with the Care Regulations.
Planning approval was given with a long list of conditions which MMP are now working with the owners to implement and the new building will be started in early 2005.