Addressing Listed Building Issues

Location: Macclesfield, Cheshire
Client: Janhill Estates Ltd
Structural Engineer: Deakin Walton Ltd
Budget: £750,000
Project: Conversion of Grade 2 listed church to offices
Duration: Phase One: Six months
Work undertaken: Detailed design and contract administration
Overview
Janhill Estates, based in Macclesfield, Cheshire, operate a number of small office units in the region. In 2003 they purchased a Grade 2 listed church to convert into managed office units. The church had been derelict for sometime and needed a major refurbishment.
Following a recommendation by another client, MMP Architects were briefed on the development requirements. This included renovation of the main church as well as adding an extension to the chancel. Again, contemporary elements were selected to contrast and complement the existing ecclesiastical characteristics of the interior.
The Project
MMP undertook detailed design and contract administration on behalf of the client with the project being divided into three phases. Phase one and two were the completion of external drainage and the fit-out of the main church. Phase three, which is due to be completed in early 2004, is the extension of the chancel.
Due to structural deterioration parts of the chancel collapsed during phases one and two and are required to be rebuilt to the original plans. This will be completed while the main part of the church is occupied.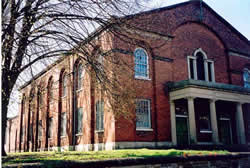 The Results
David Gittins, managing director of Janhill commented: "MMP had come to us very highly recommended from their work both in design and with the planning authorities. The development at the church was a very difficult first project. MMP have proved them selves to be a very motivated and quality-led business and we hope to work on other projects with them in the future."