Making the space work

Location: Middlewich, Cheshire
Budget: £60,000
Project: Internal rationalisation and extension
Duration: Twelve months
Work undertaken: Design, submission for planning and contract admin

Prestige Residential Developments
Overview
MMP Architects were contacted by Mrs Helen Hampshire following a recommendation by the Royal Institute of Building Architects. After initial discussions and a site survey it was decide that significant changes to the ground floor plan and addition of an extension would improve the space in the home and make better use of it.
A rationalisation of internal circulation & a single storey extension transformed a traditionally constructed house into a light, spacious home with a contemporary feel.
The existing room arrangement was cramped & constraining so a major re-planning of the spatial relationships was undertaken to maximise the potential of the property.
A warm decorative colour scheme combined with the imaginative use of lighting created a living space of interest and contrast.

Roof lights were added in the extension to allow as much natural light as possible into the living area.
A curved wall was added between the living area & the entrance hall with two glass block panels to allow natural light from the roof lights to filter through into an adjacent corridor leading to the kitchen.
A small bedroom on the first floor was removed to allow a double height space over the front entrance area. A steel staircase created an exciting introduction to the property, providing an element of surprise when viewed in context with the existing half-timbered façade.
The Results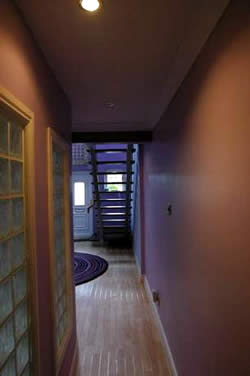 Mrs Hampshire said; "MMP were very professional with their help and guidance we were able to remodel the ground floor and add an extension that makes the house feel much larger than it is."