Living with new materials

Location: Prestbury, Cheshire
Budget: £150,000
Project: Refurbishment of living space
Duration: Seven months
Work undertaken: Complete design and build management

Prestige Residential Developments
Overview
In June 2000 MMP were contacted by Mr J Mutton following the completion of a contemporary refurbishment at his company offices in Adlington, Cheshire. He wanted to incorporate minimalist styling in his living room area but also divide it for different uses including dining, relaxing and home entertainment. A key requirement of the project was that the area should remain open to maximise the feeling of space and maintain a light and open ambience.
Materials
MMP proposed the use of several new materials contrasting with the existing internal building fabric – including concrete, glass and steel and LED's (light emitting diodes). These materials would enable the division of the area but maintain its size and openness.
An axial geometry defined the spaces with views from the main entrance terminating at a contemporary feature fireplace & from feature, concrete-clad doors through the dining area and continuing outside as far as a future water feature in the landscaped garden.

Ian Malyan, partner at MMP, commented; "Because we proposed using a number of new materials it was not possible to simply buy things off-the-shelf. We therefore had to look for specialist manufacturers that could build to a high specification using the materials we required including the concrete doors. These were intended to evoke a "raiders of the Lost Ark" feel and were ultimately clad in "GRC" (glass re-enforced cement) with stainless steel backing but still weighed 120kg each. However they were so finely balanced as to enable opening with a "touch-latch" mechanism.
The entertainment system was integrated into the fabric of the living space and different spatial zones identified by the use of split level floors with glass and stainless steel balustrading.

The use of under floor heating and a computer controlled building management system completed the clean, minimalist space the client desired.
The Results
The project was completed to budget and showed how MMP worked with clients to achieve the best results.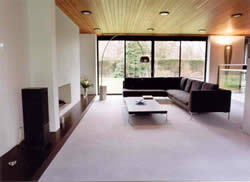 Commenting on the work undertaken by MMP, Mr Mutton is pleased with the unique environment created. "We now have a space that is divided but also works in harmony."