Living in a barn

Location: Woodford, Cheshire
Client: Homeowner
Budget: £150,000
Project: Barn conversion
Duration: Six months
Work undertaken: Design, submission for planning/building regulations and contract administration
Overview
The homeowner purchased a derelict barn on the outskirts of Woodford, in Cheshire, and wanted to convert it into a prestige dwelling but maintain as many of the original features as possible.
Project Development
MMP submitted a series of sketch proposals along with a number of other architects so that the owner could consider alternative schemes and ideas. Each had received an identical brief, which stressed the need for modern living whilst retaining the original features.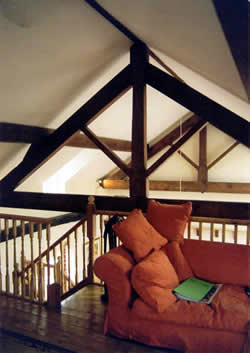 After initial proposals the homeowner, Steve Smith selected MMP because their ideas best met the brief whilst retaining many of the barns unique features.
As part of their service MMP worked with the client on the final design and helped prepare and obtain planning and building regulations. Once the design was accepted by the local planning authority the MMP team then worked with the building contractor to manage the contract until completion.
The Results
MMP completed the project on time and on budget. The character of the barn was retained by incorporating the living space within the roof zone and cellular rooms being located on the ground floor.
The client commented: "From the outset MMP demonstrated an understanding of my requirements. The project was quickly implemented by the team at MMP and on completion the barn retained many of its traditional features which had attracted it to me originally."
Since completion of the project MMP Architects have continued to work on a number of other projects for the client.