Case Study Archive - Contemporary feel in a conservation area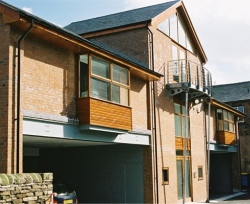 A speculative office scheme which was pre-let from the original drawings for a public relations company.
The developer's requirement was for a building with a contemporary feel yet sympathetic to the surrounding buildings in Macclesfield's central conservation area.
Located on a medieval site with limited access, the project was subject to an archaeological watch during excavation and was finally granted planning consent after a long, drawn-out process.
The success of the scheme commercially has led to the design of a more radical speculative office on a nearby site which is due to commence construction in late 2003.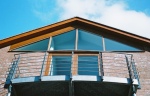 Designed and built within strict cost constraints, the use of stainless steel, cedar cladding and an internal glass bridge spanning the double-height reception contrast with the more traditional red brick and slate materials that are predominant in the area.